Crypto Betting - the worldwide trend
Football, tennis, basketball, American football - at the latest since sports betting is largely played on the internet and the many different providers competing with each other with attractive odds, special bonuses and a variety of bet types, sports fans can use their know-how to earn some decent extra money.
At the latest in 2017, a new trend from the USA has also arrived in European betting houses. Crypto Betting like bitcoin has become a big trend movement. The media is constantly reporting on it.
While many other industries are still far from accepting cryptocurrencies as a means of payment, even a few sports betting providers are offering Bitcoin as a means of payment to take advantage of the blockchain technology.
Best Crypto Betting Sites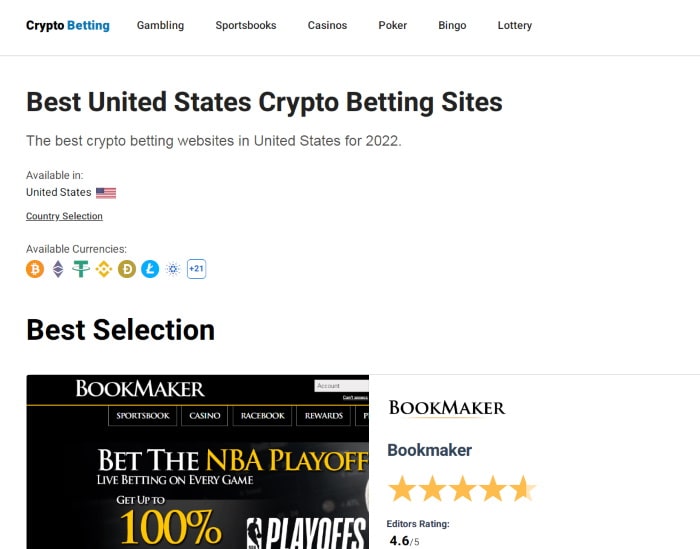 Betting on Bitcoins
But how does betting on Bitcoins work? And where can I place bets on Bitcoins? Initially, Bitcoin were just a way to invest money elsewhere and use this new cryptocurrency to make payment transactions on the internet independent of current financial policy developments, the work of central banks, inflation risks and much more.
In addition, one could hope that Bitcoin would rise in price due to an increase in demand, i.e. their value for one's own wallet would increase. This was especially interesting because in 2009, the year Bitcoin was invented, just one year after the banking and financial crisis began with the bankruptcy of Lehman Brothers, confidence in other financial products was at rock bottom.
Who still wanted to invest in blocks of shares when even banks could go bankrupt? Investment is based on trust, and trust in the financial sector was shaken. This was something like the breeding ground on which cryptocurrencies could thrive. Betting on rising Bitcoin prices
Betting on rising Bitcoin prices
It was not until much later that the possibility of betting on so-called Bitcoin futures was introduced. This allows speculators to predict the further development of the Bitcoin price. This meant that gamblers could no longer just bet on rising Bitcoin prices, but also on falling Bitcoin prices. At first, the business of betting on rising Bitcoin prices enjoyed great popularity because the prices rose and rose and seemed to have no end in sight.
Those who believed that the upward trend would continue as it has almost always done since 2009 either bought Bitcoin and put them in their wallet or actively bet on rising prices. At the end of 2017, it was possible to bet on falling Bitcoin prices for the first time - at a time when the Bitcoin price was actually threatening to drop. For the first time, investors had to fear for the value of their cryptocurrency. But this also presented gamblers with a favourable opportunity - namely, to bet on falling Bitcoin prices.
Bet on falling Bitcoin prices
Despite all the euphoria, there have always been critics of the Bitcoin hype who were and are of the opinion that this currency could not hold up in the long run. This is due, for example, to the limitation of the Bitcoin sum to 21 million once all Bitcoins are on the market. Bitcoins are thus a deflationary currency that would prevent economic growth in the long run and is unlikely to be sustainable.
The anonymity of the currency, which for all its advantages also facilitates arms and drug trafficking and even terrorist financing, were also reasons that attracted many opponents. Since one can bet on falling Bitcoin prices, since then it has also been possible to earn money with a critical opinion.
For the cyber currency, the introduction of futures was something like the first step on the way into the established financial world. Futures could be placed on euros or dollars - and now also on bitcoin.
What other cryptocurrencies are there?
Bitcoin is the best known and most traded cryptocurrency in the world, but by no means the only one. In recent years, a multitude of such digital currencies has grown out of the ground, so that it is not at all easy to always decide on the right bets.
Bitcoins vs Litecoins? Bitcoins vs Ethereum? Bitcoins vs Ripples? Or Bitcoins vs Dash? What actually speaks in favour of using Bitcoins and why do so many betting providers offer bets on cryptocurrencies that are ultimately bets on Bitcoins? The explanation is obvious: everyone knows Bitcoin and clearly most people trade with them.
The blockchain technology of Bitcoin seems to have caught on for the time being. No wonder that one has long been able to bet on falling Bitcoin prices and on rising Bitcoin prices.
How can you pay for Bitcoin?
Whether you want to bet on Bitcoins, bet on Litecoins, bet on Ripples, bet on Ethereum or bet on Dash - for each cryptocurrency you first have to take money in your hand and exchange it. You can pay in the same way as everywhere else. However, there is one special feature to note. When the first exchanges allowed betting on Bitcoins, they had to assume that betting on falling Bitcoin prices also meant that significant losses for individual players had to be taken into account.
If you look at the fluctuations of the Bitcoin price in recent years, it would be foolish to bet money that you can't actually do without. Accordingly, it was to be expected that the exchanges would strictly control investments in such bets on Bitcoins. In some cases, buying Bitcoins with a credit card was even banned. The background to this was the concern that loans could no longer be repaid in the event of large losses.
Alternatives to credit card payment
Yet credit card payment was and still is very popular for acquiring Bitcoins. Not all banks block their credit cards for payment, but most exchanges impose special requirements on investors. To avoid this, there are some alternatives. For example, you can buy Bitcoins with Paysafecard. Of course, it is also possible to buy Bitcoins by bank transfer.